Bio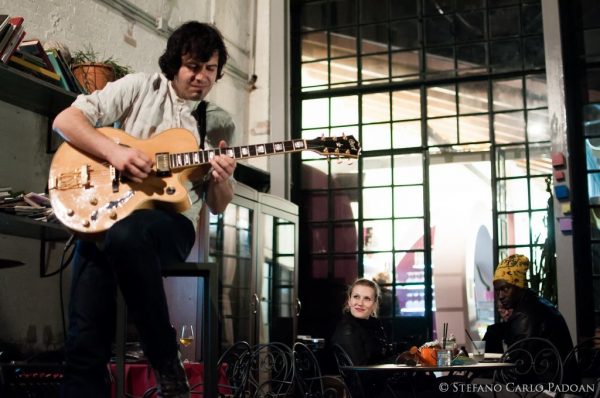 -"PORIN" award with his band as the best overall new music artist in Croatia
-"Damir Dičić" award as the best Croatian jazz guitar player
-"Status" award as the best Croatian etno musician/instrumentalist
-"Miroslav Sedak Bencic" award as the most prominent Croatian jazz composer
Jazz musician, guitarist, multiinstrumentalist, sound artist, arranger and composer, begins to play guitar at the age of 9, and plays professionally since the age of 13. His first guitar teacher was his father, a well known guitar player in Rijeka area during 1960's and 1970's.
Later on he studied with the most prominent guitar players in Croatia and studied with and/or attended workshops of many world famous guitar players like Scott Henderson, Robben Ford, Marc Ribot, Sid Jacobs, Kurt Rosenwinkel…
After playing shortly in some demo-bands he joins, at the age of 14, a pop-rock group called "Teens" and stays with that band for 7 years.During those years the band played hundreds of concerts in Croatia and abroad, winning many awards in Croatia and internationally (most notable Porin 2000.g.), releasing 3 cd's, gaining high popularity and appearing on numerous music festivals in many different countries.
In the years that followed he collaborates with many famous singers, mostly in Croatia, takes part in different projects, recordings and orchestras in Croatia and internationally. He also obtained a master degree with maximum votes in jazz performance at the jazz department of "Conservatorio G. Tartini" in Trieste, Italy.
Beside playing with many jazz&etno musicians from Croatia and his region, he played and/or recorded with many instrumentalists from different countries like Joe Locke, Reginald Veal, Bruce Ditmas, Klaus Gesing, Rob Bargad, Corey Christiansen, Pat O'Leary, John Stowell, Russ Spiegel, James Weinstein, James Thompson, Klemens Marktl, Kenn Bailey, Phil Keaggy, Mihaly Dresch, Asaf Sirkis, Yaron Stavi, Oleg Kireyev, Carlos Werneck, Takatsuna Mukai, Michael Erian, Yoshio Machida, U.T.Gandhi, Francesco Bearzatti, Danilo Gallo, David Boato, Giorgio Pacorig, Tommasso Cappellato, Dario Carnovale, Alfonso Deidda, Alessio Menconi, Riccardo Chiarion, Andre Araujo, Wilmer Sifontes, Alvise Seggi, Luca Colussi, Simone Serafini, Jacob Melchior, Joe Kaplowitz, Antal Brasnyo, Rosa Brunello, Eldar Saparayev, Marcello Benetti, Alessandro Turchet, Flavio Davanzo, Michele Bonivento, Vlatko Stefanovski, Vasil Hadzimanov, Aleksandar Ipavec, Naat Veliov, Vasko Atanasovski, Stefano Di Grigoli, Mirko Cisilino, Igor Checchini, Moulaye Niang, Bodhisattwa Ghosh, Bijit Bhattacharya, Premjit Dutta, Thomas Bauser, Daniel Schay, Martin Moro…and many international vocalists like Saba Anglana, Gabrielle Stravelli, Nancy Vieira, Tamara Obrovac, Milk and Coffee, Jennifer C. Fernandez, Denise Dantas, Gino Santercole, Byron Motley, Lino Rocha, Ty Le Blanc, Pastora Soler, David Elliot, Marcina Arnold, Simon Marlow, Teti Cortese, Heloisa Lourenco, Francesca Viaro, Arsen Dedic Rade Serbedzija, Gabi Novak, Tereza Kesovija, Tinkara Kovac, Aleksandra Kovac, Nika Solce, Lela Kaplowitz…
In various line-ups he played in jazz clubs and festivals in Croatia, Italy, Austria, Netherlands, Slovenia, Macedonia, Germany, Hungary, Serbia, Bosnia and Herzegovina, Montenegro, Finland, Estonia, Romania, Switzerland…
Beside leading his own "Loose trio" and his world music group "Atma Mundi Ensemble" he as an active member of the following groups & projects: "Voices Of Nature", "Art Pollution Trio", "Galere di Fiandra e di Siria", "Gabrielle Stravelli 4tet", "Arakne group", "Max Trabucco 4tet", "Acoustic songs of faith"…
Also published a book of transcriptions called "Abazar" featuring the music from the international world music group "Voices of Nature" album of the same name. Beside playing the guitar he is an acknowledged multiinstrumentalist playing and performing on various string instruments such as the oud, saz, pipa, charango, cindra, mandolin, sitar, tamburitza…
He is also a seasoned arranger in the jazz domain and has been writing, arranging and adapting music for many renowned groups and orchestras such as "Jazz orkestar HRT Zagreb", "Big T Band" (dirigent Klaus Gesing), "HGM jazz orkestar Zagreb" (dirigent Sigi Feigl), "Orchestra Laboratorio" (voditelj Giovanni Maier), "JazzIstra orchestra", "Tamara Obrovac Transhistria Ensemble", "Chui", "Kristian Terzić band", "Jan Pele Dalmotion project", "The Wildflowers", "Gradska Glazba Samobor", "Borna Sercar's Jazziana Croatica"…and of course writing for his own groups and the groups he takes part in as an instrumentalist.
His artistic interest is confined not only to jazz and etno music but is also expanded to other means of art that go beyond music and deal with sound as a material, an integral element of everyday life.Through sound art and site-specific concerts and performances Zoran tries to ensure that he is thought of not only as an multiinstrumentalist, arranger and composer but also as an conceptual artist that has different ways of expressing his artistic individuality.Projects and collaborations in the field of sound art and site-specific concerts and performances are performances at the MMSU Rijeka(Museum for Modern and Contemporary Art, Rijeka, Croatia), Spanish artist Laura Lanelli's project "Dispersion", "Štikla" series of concerts dealing with sound art and improvised music, concerts in different venues with his improvised music collective "Art Pollution"…
Beside being active in everything mentioned, Zoran is also teaching music, giving workshops and seminars(annual workshop during the International guitar festival in Kastav,Croatia), part-time organizing and promoting different cultural activities, mainly dealing with improvised music, etno and jazz music, sound art…
Zoran's music and playing can be heard on different projects published by many record companies such as Croatia Records, IDM Music, Dallas records, Aquarius records, Orfej, Abeat, LAD records, HIT, Birdland Sounds, Musica Jazz, Numar Un, Bono Records, Maraton…